OK, so I've discovered why the front disc on my hornet is warped.
The pistons on the right hand side of the caliper are not moving so the only braking on the disc was being done by the ones on the left.
Too much heat one one side of the disc compared to the other has made it warp.
So...after looking around online, I found a really cheap replacement caliper that comes with a stainless braided brake line.
Now, here's the catch...it isn't off a Hornet, it's off a VTR1000F Firestorm.
Now I know they use the same pads and look identical so I decided to take the risk.
Image of Firestorm caliper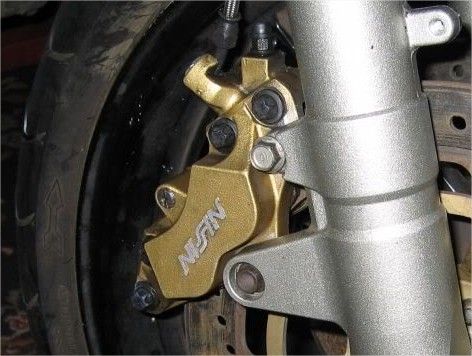 I'm also going to purchase a Firestorm disc and if need be, use 1mm spacers between fork leg and caliper to compensate for the 1mm difference in offset and ensure the disc runs centrally in the caliper.
What do you guys think?
_________________
1997 250 HORNET - Twin Carbon Yamamotos/Hagon Shock/Coerce Bellypan

:)


1998 600 Project underway!