I finally got around to balancing my carbs today. As I'm going to be replacing the fuel hose, I took the air box off, which improves access no end. In fact, with the air box in place, I had a real struggle even finding the vacuum hose connection for cylinder 4.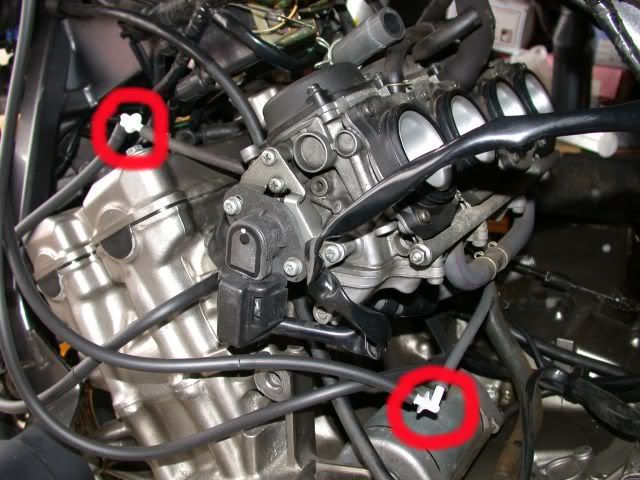 Cyl 1 is easy, screwed plug on side of manifold is replaced by plastic stub from the Morgan kit. Cyl 2 uses the fuel tap vacuum, I've used some Halfords wind screen washer connectors (circled) to join Carbtune hoses to Honda hoses, similarly for Cyl 3, which uses the PAIR valve vac hose. Cyl 4 has a brass stub under the carb, angled inwards toward centre of bike, capped with a tight rubber cover, which is retained by a tiny clip. Needle nose pliers and good sense of feel required here!
In the pic, I've fitted the Carbtune hose over this stub, which is hidden behind the coolant pipe, arrowed.Because the air box and battery have been removed, I started the bike using a car battery and jump leads, suitably insulated. Fuel supplied simply by using 50ml syringe to keep carbs topped up via open fuel hose.There are three balance adjusting screws, located on the throttle linkage. The central one is located on the throttle cable quadrant. This screw adjusts the carbs in banks of two ie Cyls 1 & 2 vs Cyls 3 & 4.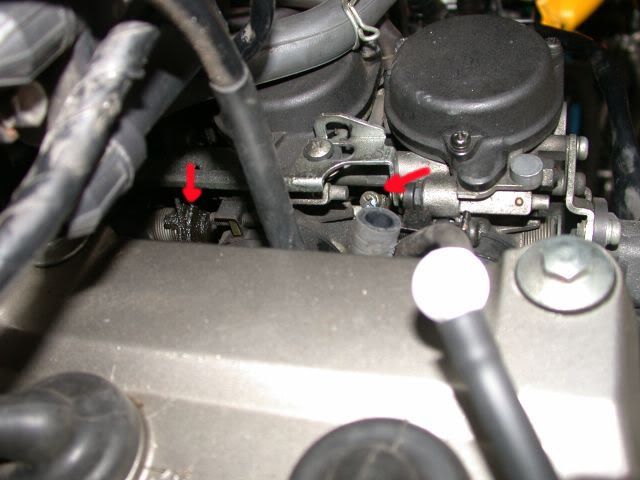 This is the one to adjust first, to get Cyl 2 equal to Cyl 3, the reference carb. You have to partly open the throttle to get at this central screw, so best to turn off engine whilst you do this. The screw is very sensitive, a tiny fraction of a turn did the trick for me. Once this has been done, Cyls 1 and 4 can be adjusted, using the blue painted screws on the linkage between each outer pair of carbs. You really need a long screwdriver to do this, working from the front of the bike, over the top of the valve cover.Final picture shows my first attempt at balancing. Before starting, one pair of cylinders were well below other pair, didn't get a pic of this. I'm off to Machine Mart in the morning to get some 450mm long screwdrivers, then I'll have another go at balancing, see if I can get them even closer.