Added this to the American forum today, figured it may help a few folks out over here as well.
HOW TO: Install Hagon Progressive Springs – 06'
Tools Required:
- ¼ drive rachet w/ extension
- 17 ¼ drive socket
- 12 ¼ drive socket
- 10 ¼ drive socket
- ½ drive rachet
- 22 ½ drive socket
- 14 open ended wrench
- 5/16 allen wrench (or metric equivalent)
- 3/16 allen wrench (or metric equivalent)
- High temp wheel bearing grease
- Tool to compress spring (I purchased two 90 degree steel bars, bolted one end together, and placed a brace on the spring side so it would not allow it to separate further than necessary) – This will become clear as you read the process.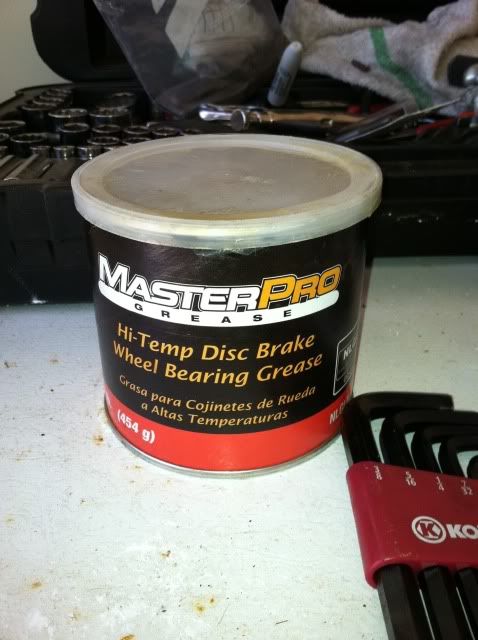 Step 1: Before placing the bike on stands, be sure to loosen all necessary bolts as you will no longer have the leverage required if they are tight. In order loosen:
1. Loosen top triple tree fork clamp w/ 5/16 allen wrench
2. Loosen fork cap w/ 17 ¼ drive socket
3. Loosen bottom triple tree fork clamp w/ 14 opened ended wrench
4. Loosen bottom bolts on forks (which I believe locks the axel) w/ 12 ¼ drive socket
5. Loosen axel bolt w/ 22 ½ drive socket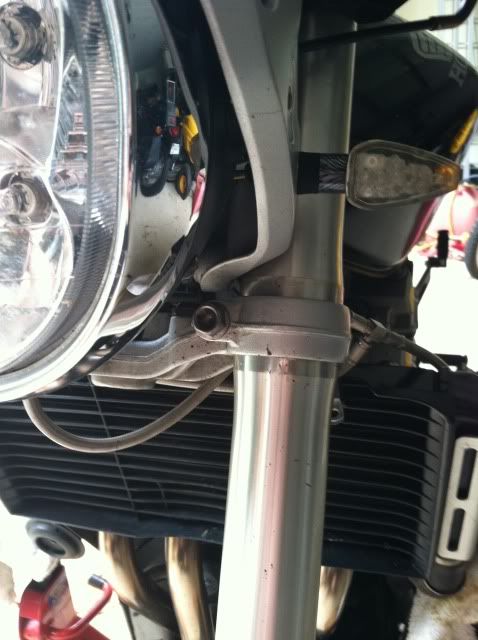 Step 2: Once necessary bolts are loosened, bike can be placed on stand. Best and most stable method I found was to put jack stand under frame sliders (if you have them) or under crank and clutch case if not. (Be sure to place rags or something on stands to prevent scratching) Also make sure you have the stands on something to get the front wheel off the ground and otherwise relax the springs.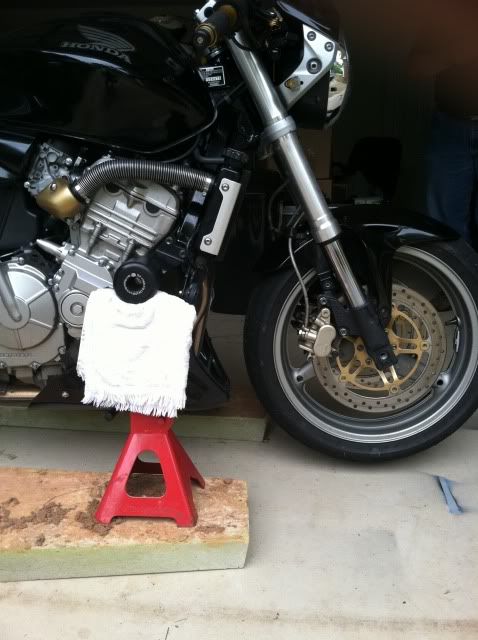 Step 3: Remove Front End of Bike:
1. Remove brake lines from front fender w/ 10 socket.
2. Remove brake calipers from front wheel w/ 12 ¼ drive socket (You can hang the calipers over radiator to keep any unwanted pressure or bends on the lines/caliper itself and to get them out of your way.)
3. Remove front fender w/ 3/16 allen wrench
4. Remove axel w/ 22 ½ drive socket (to pull axel out just slide a screwdriver or one of your allen wrenches in end hole and pull…u can give it a light tap with a mallet to help it go through…DO NOT LOSE WHEEL SPACER!)
Step 4: At this point the wheel should be off as well as anything else
connecting to forks. You can now remove all triple tree bolts previously loosened and pull forks off front end. (Note: I wouldn't fully loosen fork cap until fork is off)
Step 5: Loosen fork cap until you can see the spacer/portion of spring from fork. (Flip upside down and drain any existing oil from fork…be sure to pump it a few times so that it releases oil still in crevasses and coils)
Step 6: Here is the tricky part and will require two people to do it. Have your 14 open ended wrench, your 17 ¼ drive socket, and your make shift spring compressor ready. When you compress the spring far enough, there will be a 14 size nut inside the spacer that is holding the spring cap in place as well as the springs themselves. You will need to compress the spring far enough to loosen the nut and to be able to remove the fork cap. With your makeshift spring compressor, place the bolted end under a workbench or something that you can use for leverage. The other end should pivot on the bolt and allow you to "scissor" it onto the top of the spacer (in between the cap and the white plastic spacer which you will need to initially push down on to get it in there). You want to make sure your "scissor" has a bolted brace so that it cannot separate any wider than the room needed to clear the 14 nut in the spring. The 90 degree steel bars work perfect for this because you want as much of the flat part on the plastic spacer as you can to prevent from damaging it. With that said one person should push down on the makeshift compressor so that the spacer/spring compresses far enough to get to the 14 nut. The other person needs to quickly loosen the 14 nut with the open ended wrench while holding the fork cap with the 17 ¼ drive socket. (It may take a few tries to realize how to do it efficiently but don't fear, it can be done fairly easily) Once that cap is removed the entire spring will pull out very easily.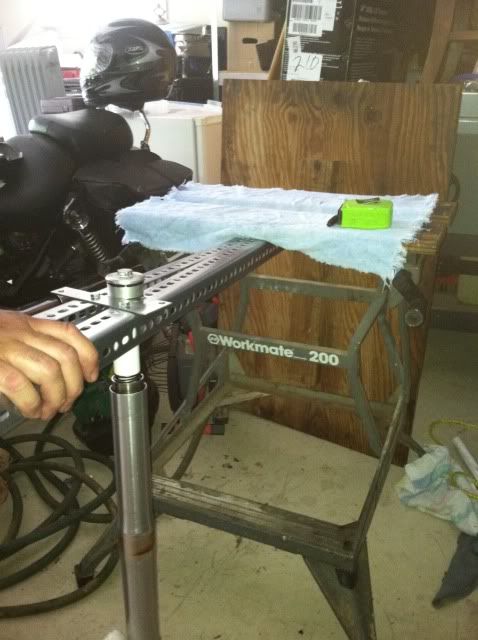 Step 7: Replace the spring with the closer coils on top and fill a portion of the fork tube with new fork oil. This will keep the mess down when you add to it later. (I used 15w but you can keep whatever weight you choose that comes with the springs you pick) Be sure to pump the inner rod 15-20 times to remove all air from the system.
YOU CAN SEE THE DIFFERENCE BETWEEN THE TWO SPRINGS HERE....STOCK ON LEFT, HAGON ON RIGHT
Step 8: One more hard part and your home free! At this point you need to repeat Step 6. Place the spacer on top of the spring…be sure to hold the rod with the nut so that it doesn't fall down back into the fork tube. Once again place the bolted end of your makeshift spring compressor under a workbench/something with leverage…place the other end on top of the plastic spacer with it centered as much as possible and compress the spring. Another person will once again have to screw on the fork cap all the way and tighten the 14 nut with the 14 open ended wrench to the fork cap. After this is done you can push the spring/fork cap a little to the side and fill the rest of the fork with oil to the recommended level (hagon recommended an air gap of 90mm which came to be 3.5 inches).
NOTE: If you even hand tighten the fork cap all the way down it will seal to the point you cannot get it back off without clamping it back down in the triple tree and re-loosening the fork cap so don't tighten it unless you are sure you are done!
Step 9: Repeat steps 5-8 on other fork and place them back into triple tree.
Step 10: Reapply all parts in reverse order…it would be wise to use some blue locktite on all of these bolts as they receive a great deal of vibration from use and are of the utmost IMPORTANCE to your further riding enjoyment. Also be sure to apply some high-temp wheel bearing grease to your axel before placing it back through wheel. Remember your wheel spacer goes on the left side of the wheel!
As an added precaution I would also wipe down your brake discs of any grease/oil that may have found its way onto the discs during this process. For further questions feel free to contact me… I hope this covered it all but if I remember anything left out I will be sure to add it.
_________________
2006 599
Vortex 14/45 Sprockets w/ 520 conversion, Micron Carbon Fiber Stubby, BMC Filter, Dynojet,
SWATT clip-ons, Pazzo levers, Driven Gel Grips, Grab-rail caps, bar end mirror