Hello one and all,
After searching without success for a definitive answer as to how to convert the 16 inch wheel to a 17 inch wheel, I took a gamble with the information I could find, so to save anybody else the hassle in the future I thought I would post my findings.
All you need to convert from the 16 inch wheel to the 17 inch wheel is as follows
17 inch wheel form the early models 2000-2003

disc from 17 inch models 2000-2003
Thats It, all the rest is the same,re use existing spacers, no clearance problems with the mudguard, or the calipers, you dont have to change the forks. you just need the wheel and the discs.
Why can't I use the 16 inch discs? i hear you say, they look the same?
Yes they do but there are subtle differences in the mounting holes between the two, so 16 discs wont fit 17 wheel and vice versa.
16 inch on bike 17 inch loose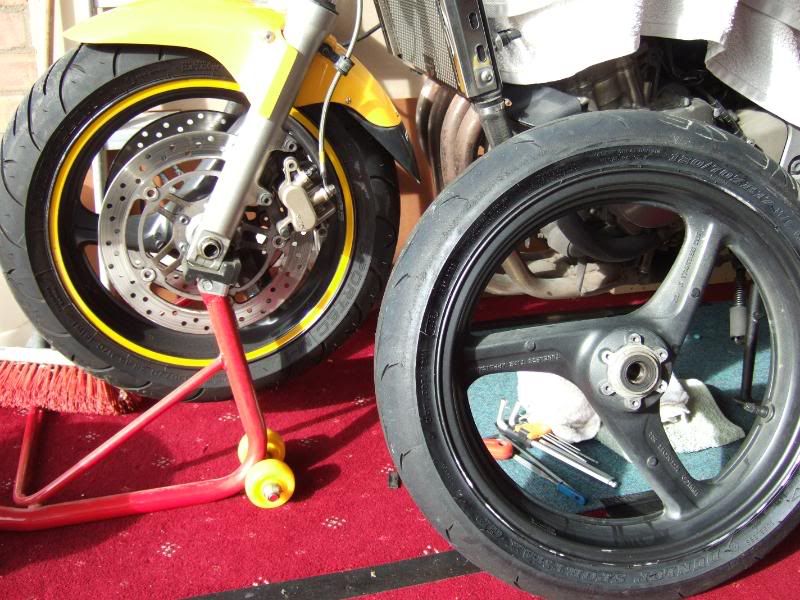 16 inch disc on 17 inch rim, note how central hole is larger in diameter and the mounting holes dont align with hub.
17 inch disc with 16 inch on top
Closer view, note 17 inch discs central hole (lower one) has a smaller diameter than 16 inch (upper one) and the mounting holes do not align
This is why you need 17 inch discs as well as the wheel.
Finished!, 17 inch on bike 16 inch loose
Now before you ask, yes I have heard that blackbird front wheels and VTR 1000 front wheels are the same and will/may fit, but what discs do you use?? No one seems to know for sure. Its all "a friend of a friend says" or " my mate reckons" The same as fitting cbr wheels, but then you may/may not need forks
So if you want a
DEFINATE 100% NO IFs, NO BUTS, 16 to 17 CONVERSION,
this is it.
Hope this helps someone out there, as it peed me off trying to get a concrete answer.
I know this works as I have done it!!